VMRO-DPMNE - Internal Macedonian Revolutionary Organization – Democratic Party for Macedonian National Unity
---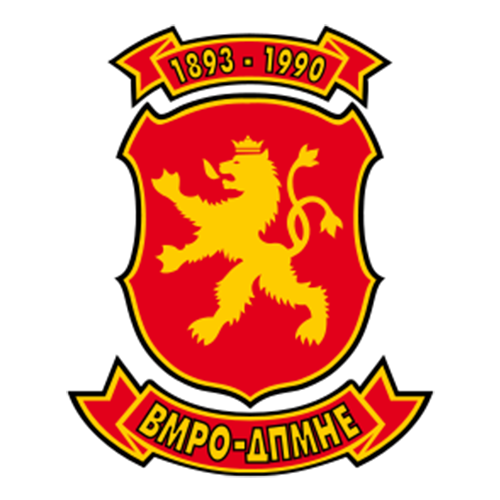 Internal Macedonian Revolutionary Organization – Democratic Party for Macedonian National Unity is classified as people's party with demo-Christian orientation, established on 17 June 1990 in Skopje.
The subject of analysis in respect to this political party, and in absence of the envisaged questionnaire prepared for the needs of the analysis, is the Statute of the Party (7) and its Doctrine (8) publically available on their official web page. At the same time we analyzed the Program of VMRO-DPMNE 2017-2020 named as "Real! –Work, safety, progress", published on Monday, 21 November 2016.
Although the Statute of the Party covers various segments of acting, none of them mentions the basic principle for respect and promotion of human rights and freedoms. In the chapter on the aims and objectives of the Party, it is stated "respecting the rights of the ethnic minorities and confronting any form of expression of intolerance, chauvinism and segregation based on ethnic, linguistic or religious ground" and "guaranteeing the rights of the Macedonians who live outside the borders of the Republic of Macedonia in line with the Constitution and the international documents".
The Doctrine of this political party, published in writing on their web page, in none of its segments mentions the human rights and freedoms, as opposite to the Statute which in a form of an idea "guarantees" the rights of the Macedonians who live outside the territories of the Republic of Macedonia.
The program "Real! – Work, safety, progress" does not mention neither LGBTI persons, nor the sexual orientation, or the gender identity. Only two project proposals – project No. 79 and project No. 80, envisage implementation of basic trainings on promotion of the concept for non-discrimination and prevention of hate speech, and preparation of a guide book for parents for recognizing discrimination in the inclusive education. Both projects are unclear whether they cover discrimination based on sexual orientation and gender identity. By contrast, the project No. 54, envisages training on sexual and reproductive health targeting pupils of VIII and IX grade in the primary schools. Again, it is unclear whether these topics cover the problems and needs of young LGBTI persons.
Do you count on the votes of LGBTI persons and why do you think they would support your political party and would vote for you?
Answer: No answer
You can download the questionnaire here.